PRESERVING THE PAST - PROTECTING THE FUTURE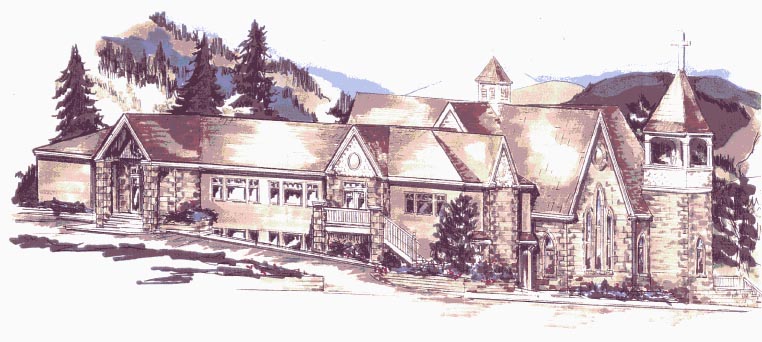 "This is the Lord's doing, it is marvelous in our eyes."
Psalm 118:23

The Historic Community Congregational Church of Manitou Springs, Colorado, is currently engaged in an exciting and enthusiastic project to restore this unique building for future generations of faithful people to enjoy. A 1.3 million dollar capital campaign is currently underway to preserve the church's historic past, while protecting it's important place in the ongoing life of this community. Click on the following sites, for more information. The congregation has voted overwhelmingly to proceed with this vision in a positive and progressive manner. Your tax-exempt financial participation in this program, will help make a significant difference toward preserving this jewel at the foot of Pikes Peak, while protecting a faithful future for all people of faith to enjoy!

HOW MUCH IS THIS GOING TO COST?
After After looking at drawings and having large dreams, the inevitable question of money most naturally comes to mind. How much is this all going to cost? Can we afford it? Where will the money come from? Who will provide the means and method?

The immediate explanation is from a variety of source. The bottom line ultimately will be answered by all that care and want to contribute to the historic and ongoing life of this church. For over 100 years this congregation and community have stepped out in faith, to meet a financial need. Back in the 1880's when the church was first built, the total cost came to a little over $3,500 dollars! That was an enormous amount of money, back then.

Times have changed. The projected cost of restoring and renewing this church in the 21st century now comes to around $1.3 million dollars. All of us are well aware of the plain and simple financial realities in the times we live today.

Yet the challenge is no bigger than it was over one hundred years ago. People with faith did it back then... as we can surely do so today. Such costs give cause for serious consideration and reflection. Time and talent is in great supply. Money can be found and raised. We can do this! Where there is a will, there is a way! "For in God, all things are possible!" (Matthew 19:26)
How Will We Raise the Money?

There are a number of means available to cover the costs for restoring and renewing this historic church. Here are a few options for your review and consideration:
Special Grants
The church is applying to the Colorado State Historical Preservation Society for funds that are available to restore both the sanctuary and church hour/office. Both these structures fall within guidelines of eligibility for funding. Other grants may be available to help with handicap accessibility and community/public use issues. We will not know exactly how much revenue these grants will realize until they are formally submitted and accepted.
Special Gifts
Individual gifts for the restoration and renewal of this historic church are needed and welcomed. You, a member of your family, or friend of the church and community, may want to consider giving such a gift in one of the following categories:
$2500-$5000; $5000-$10,000; $10,000-$25,000; $25,000-50,000; $50,000-$100,000
Such gifts can be made anonymously or in memory of a loved one. There are tax advantages to be realized in this manner that you may want to discuss with your accountant or financial planner. The church has contracted with the United Church of Christ Capital Development Services, who can also provide valuable information about how you can participate in this restoration and renewal process in ways you might not have ever thought about. There are financial real financial advantages, personally and to this project, that can be realized by your involvement and support. Please contact the church office for more information.
Gift of Assets
You can give gifts other than cash. In fact, your tax savings will be greater if you consider the other potential donations since you save on capital gains. This includes stocks and bonds and even real estate as long as you have owned them for at least one year. In addition to the regular tax savings, the capital gains tax is entirely avoided. There are some special rules: You must give the security or gift to the church rather than the proceeds from a sale. Many examples can be given but, suffice to say, that if you sold a stock that you purchased for $1000 which is now worth $5000, you will pay a 20% tax on the appreciated value. That reduces your contribution by $800 and decrease your tax deduction. If you make a direct gift of stock, the church will receive the full value and you benefit from a larger donation for tax purposes.
Gift Of Life Insurance
How many of us are paying for life insurance policies that our families and we will not need after we die? This may be a way for you to make a much larger gift than you though your were able to do. The methodology is simple - you make the church the beneficiary and owner of the policy. In return, you deduct the amount you pay for premiums in any given calendar year. Of course, many of us have full or partially paid policies on our desk. This can give you a much larger deduction.
Gift Of A House
Your house is a potential gift that can be managed to provide you with a deduction while continuing to live in it. An irrevocable trust allows you to remain in your home until you die after which the title would transfer over to the church. The tax deduction is based on a formula that an attorney would discuss with you and it can be substantial.
Gift Of Retirement Plans
One estate planner says that donation your 401(K) plan or IRA is the best way to give. Simply put, when you bequeath all or part of your plan to a charitable agency, you avid estate tax on the amount given. Again, all that you have to do is make the church the beneficiary of all or part of the account.
Gift Of Prayer
In order for any project to succeed, it needs to first and foremost be grounded in prayer. All things are possible to those who have Patience, Persistence and Pray!


ACTION 2000 CAPITAL CAMPAIGN COMMITTEE

| | | |
| --- | --- | --- |
| Jane Hart | Tony DeLollis | Stewart Tresouthick |
| David Hunting | Larry Thunberg | Spencer Wren |
| Lovena Lidddle | Will Hinkley | Christy McDonald |
| Chuck Mensing | Tinker Simmons | Miles McDonald |