News in the Life of the Church

DECEMBER 1999
Welcome to the on-line edition of The Informer! This is the electronic version of t
he newsletter you should have received in the mail. If you have any comments or suggestions, please e-mail them back to me. Last months edition had an incredible response from all over the country. Churches from as far away as Washington, Minnesota and New Hampshire wrote back. Many of members and friends of our church have been passing this web-site on to others to enjoy. Thanks for the feedback. Have a blessed Christmas and Happy New Millennium!

MESSAGE FROM THE MINISTER
Like so many columns being published by pundits of the coming new century and millennium, I too find a degree of excitement and anticipation in the air. However, I'm not one of those who would speak of danger signs suggesting that the world is about to come to an end. Nor do I believe for a moment in any apocalyptic chatter that God is going to wipe out all creation at the stroke of midnight come January 1st. Such biblical hype and hyperbole to my way of thinking is based more upon silly superstition and ignorance.
At the turn of the last millennium people heard similar predictions of doom and gloom. One thousand years ago, the Christian Church held a considerable amount of influence upon the world. Now that same scope more properly might be placed in the power of computers in our everyday lives. So we hear similar cries that the world is going to come crashing down around us in what has come to be called Y2K!
It's my belief that when all is said and done, this commotion will have amounted to little if anything. The world will continue to move forward. Along the way an occasional bump or bruise will come along to remind us that people continue to grow and change. Still I believe there will always be more goodness in the world to point to than bad…even though the local news of the day might suggest otherwise. God still has more light – to shed upon this world!
As Christians we approach the new millennium, as others before us have long before. We take the walk again through this sacred season called Advent – which prepares a faithful heart for the promise of Good News born in Bethlehem! So come this January 1st; let us not anticipate the lights going out. Rather let us lift up the eternal light of Christ that shines so bright!
The spirit of this Christmas continues illumine a path that points a waiting and wanting world toward hope and peace. It's in that spirit, I wish you and yours a blessed holiday season and a happy new millennium! May the living presence of Jesus Christ our Lord reign a thousand years and more!
In Service to His Church,
Rev. David L. Hunting

NEW NEWSLETTER NAME
FOR A NEW MILLENNIUM
Between now and the first of the year we would like to welcome suggestions for a new name for the church newsletter to go into the new century. In the history of the church the newsletter has had other names besides "The Informer". We invite you to share your suggestions for a new church newsletter name by either calling the office, writing on the back of your attendance slip on Sunday or drop us a note in the mail. Here are a few names that have been suggested to date...THE GRAPE VINE, THE WORD, THE MESSENGER, THE LAST WORD, THE LATEST WORD, THE SCROLL, THE GOOD NEWS, MOUNTAIN MESSENGER. The new name will be announced at the turn of the NEW millennium!


ADOPT A FAMILY PROGRAM
Christmas is fast approaching and our Mission Board has made arrangements for our church to take part in the Westside Cares ADOPT A FAMILY program. Although our request was for three families, we want to be sure that all Westside CARES church have an opportunity to take part. Adopting a family (or families) means 3 things:
Supplying a generous traditional Christmas dinner (may be in the form of a grocery certificate from a local store).

Children in each family in this program will receive two wrapped gifts – one package will contain a new toy and the other a set of new clothing. Adults will let us know of a small gift item that they desire.

Arranging a time with the family to personally deliver gifts and food to their home.

If you would like to take part in this you may wait until we have our assignments and pick an envelope off the Christmas tree in the Church Sanctuary or you may donate cash to be used toward the purchase of the grocery certificates. We are asking that the wrapped gifts be brought to the church by Sunday, December 19th. (Checks for this project should have a notion earmarking "Adopt a Family" project.

| | |
| --- | --- |
| | CONSECRATING STEWARDS SUNDAY |
You have heard the word "steward" more and more in recent weeks at our church as our Witnessing Stewards have shared with us – very personally, very meaningfully.
Now we are ready for a powerful time this next Sunday, November 28th. Our Guest Steward will be Rev. Bill Dalke, Rocky Mountain Conference Minister from Denver who will be preaching during worship. We will also have be having Communion by intinction. Included in this newsletter is a sample of the "pledge card" which will be given to you at worship on Nov. 28th. While it is good to calculate our giving, we also need to be open to God's spirit leading us on Sunday morning, so come ready for leading, for inspiration, for new challenges to new levels of giving. Plan to be with us on Stewardship Sunday, November 28th, which is also the First Sunday in Advent.
If you were not able to be present on Stewardship Sunday, your pledge card is still important and needed. Our Board of Trustees is in the process of preparing the church budget for the coming year. Please mail in your 2000 pledge card before Christmas, so that we can have a reasonable account of what our income and expenses can be for the coming year. Thank you for your continuing commitment and faithful support of your church's ministries!

WEDDING BELLS IN THE CHURCH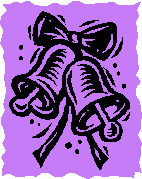 The following couples were united in Christian marriage in the month just past. We extend our best blessings to these happy people, who stood before the altar at our church. We extend our best wishes to each of these couples as they begin their married lives together.
| | |
| --- | --- |
| | AMY NECKAR and STEVEN GUSTAFSON were married by Rev. Hunting on Saturday, November 6th. |
| | TARA PUCKETT and PAUL LEWIS were joined in marriage in an evening wedding on Saturday, November 20th. |

DECEMBER BIRTHDAYS

1 Maile Gray, Joe Traficanti, Michael Allen
2 Brenda Hunting, Deborah Strawn
4 Roselyn Lee, Brenda Logan
7 Matthew Hinkley
8 Barbara Lynch
9 Darleen Decker
10 Shawn Henson
12 Deborah Adams
14 Barry Beard
15 Brian Williams
16 Bob Kohler
17 Donna Dunkley
18 Jennifer Hunting, Adam Pritchard
21 Bryan Bradley
22 Margaret Klein
24 Bill Denmark, Patricia Keene
26 Gloria Otwell
28 Rachel DeLollis, Jeremy Wolfe
29 Benita Markham, Jack Willie
30 Bill Stewart

DECEMBER ANNIVERSARIES


| | | |
| --- | --- | --- |
| 3rd | Jan and Tim Phillips | 23 years |
| 5th | Sarah and Bill Koerner-Tresouthick | 7 years |
| 7th | Barbara and Roy Stearns | 3 years |
| 16th | Marcia and Chuck Mensing | 17 years |
| 23rd | Arlene and David Penman | 39 years |
| 25th | Evelyn and Dan Hirschler | 58 years |
| 26th | Lise and Scott Hunt | 6 years |
Abe & Ginny Suazo and family in the death of Abe's father, ALFRED SUAZO of Antonito CO. on Wednesday, November 17th.

Services were held on Saturday & Sunday, November 20 & 21.

| | |
| --- | --- |
| | BAPTISMS |
| | |
| --- | --- |
| | MEREDITH LEE SIMMONS was baptized during the service on November 14th. Meredith is the daughter of Christy & Joel Simmons and granddaughter of Meredith & John Simmons. She was born on July 3, 1999 and her God-parents are Matt & Wendy Talbert; Taylor Talbert is Meredith's "God-sister". |

| | | |
| --- | --- | --- |
| | YOUTH GROUP NEWS | |
DECEMBER YOUTH


GROUP ACTIVITIES

TUESDAY, DEC. 7th
HIGH SCHOOL
"Walking Shield"
7:00-9:00 pm

TUESDAY, DEC. 14th
MIDDLE SCHOOL
"Walking Shield"
7:00-9:00 pm

SUNDAY, DEC. 19th
ALL YOUTH
Breakfast preparation
beginning at 8:00 a.m.

TUESDAY, DEC. 28th
HIGH SCHOOL
Meet for volleyball
at the Middle School gym
7:00-9:00 pm

TUESDAY, January 7th
ALL YOUTH - GUEST SPEAKER
Olympic Wrestler
7:00-9:00p.m.
(Activities are at church unless otherwise stated.)
On Sunday, December 19th, the Middle School and High School Youth of our church are hosting a breakfast in Fellowship Hall and will begin serving at 9:00 a.m. Please let the church office/685-5255 know how many from your family would like to attend or write this on the back of your attendance slip any Sunday morning. December 19th is the "Lessons & Carols" Sunday – you won't want to miss out on this special day!
QuiltFest '99

The Girl Scouts of Manitou Springs held their QuiltFest '99 in the church Fellowship Hall on Sunday afternoon, November 14th. They made 50 quilts to give to needy babies this holiday season. The church office received a "thank you" for helping them achieve their goal!
Way to go girls!!!!
| | |
| --- | --- |
| If you'd like to get a hold of our church youth director, Trevin Bensko-Wecks... he can be reached at the following e-mail address - tbenskowex@aol.com | |

Each and every year all members of our church are asked to pay their "per capita" dues of $10 per individual member. For example: if you are a couple your per capita dues would be $20, if your family is a couple with two children who have been confirmed your "per capita" would be $40, if you are a couple with 3 small children it is $20.
Break-down of distribution of Per Capita dues:
$5.00 is sent to the United Church of Christ's Rocky Mountain Conference Office in Denver to help maintain their office, offer programs, help with new church starts, etc.
$.25 goes to the Southeastern Association of the Rocky Mountain Conference (this includes all UCC churches in the southern part of Colorado).
$.75 – to the Mission efforts of our local Church
$4.00 – Westside CARES – assists with programs for the ecumenical outreach of Westside churches.
So that you will be current with your "per capita" dues, please send in your check and the bottom part of this form as soon as possible (or put it in the collection plate on Sundays). If you have a question as to how many people for which you should pay "per capita", call the church office. Notices will be sent out soon to those persons who have not yet paid "per capita" dues. Please help us by getting yours in soon. Thank you!

From all the staff of the Community Congregational Church of Manitou Springs, Colorado... we wish you a safe and blessed holiday season... and the happiest of New Years!